---
In 1950 Nick and his wife, Edna, founded the Ebony Showcase Theatre, the first African American-owned legitimate theater in Los Angeles. They received many prestigious awards for their accomplishments.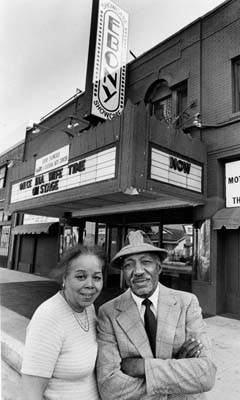 Nick and Edna Stewart, known affectionally as Mimi and Papa, are shown above (circa 1985)
---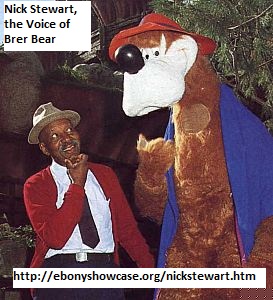 Walt Disney chose Nick Stewart to be the voice of Brer Bear in Song of the South (1946). Nick revived the voice in the Splash Mountain ride at Disneyland.
He was a pioneer in Vaudeville, Stage, Radio, Movies, and Television; he also played Lightnin', the janitor, in the "Amos 'n Andy" TV series. Nick Stewart also played the part of Lightnin' on the Amos 'n' Andy TV show, Willie, the guide in Ramar of the Jungle, Dink in Carmen Jones, and more. Nick was a dancer, comedian, and actor, and was a featured performer in vaudeville, radio, stage, motion pictures, and television.
---
Although the theater buildings were demolished by the Community Redevelopment Agency in 1998, our theater's mission ("education, artistic, and cultural enrichment, through entertainment") is continued via projects, services, this website, the internet, and various venues.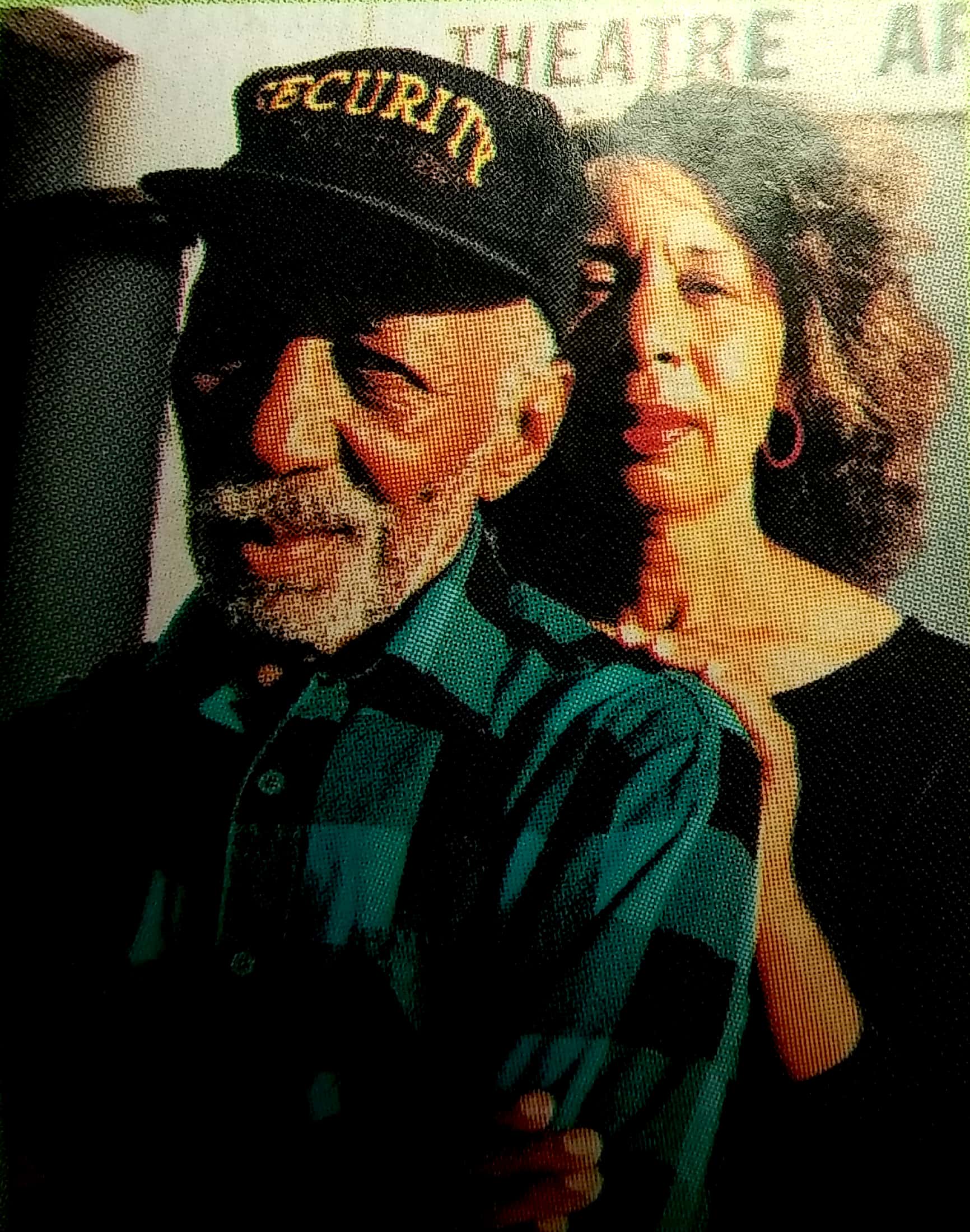 Nick Stewart and daughter, Valarie
Nick and Edna Stewart their lives to helping others through the non profit Ebony Showcase Theatre and Cultural Arts Workshop. Daughter, Valarie, is dedicated to keep their legacy and vision alive. Please help by volunteering, sharing, or donating to the cause.
Click here to contact daughter, Valarie Stewart. We are a 501(c)(3) charity with viable current projects and viable plans for the future. You are invited to join our team or to make a tax deductible contribution of goods or money.
Building and Projects Fund
All contributions are tax-deductible. Please lend your support to our project: We have an immediate need to raise at least $50,000, seed money, for books, computers and equipment for our Internet Broadcasting World Component, for space costs, rennovation, refurbishing and maintenance, fuel and transportation costs for field trips and meetings, office supplies such as toner, DVDs, CDs, Paper for flyers to distribute, and miscellaneous expenses. We are also searching for a kennel for rescued dogs and cats.
---


Join Our Team
---

Radio! Movies! TV! Entertainment! Education! Cultural Enrichment! Resources!
The Award-Wnning Ebony Showcase Theatre has a 65 year legacy of presenting quality entertainment.
The picture below, taken on the stage of the Ebony Showcase Theatre November 28, 1973, shows Nick and Edna Stewart receiving an award from Los Angeles Mayor Tom Bradley, surrounded by cast members of Norman Is That You and staff of the Los Angeles County Museum of Science and Industry.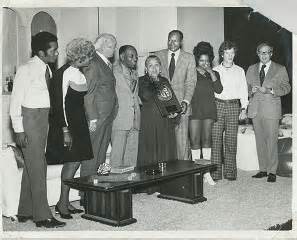 The Ebony Showcase Theatre and Cultural Arts Workshop, Inc. is a 501(c)(3) non profit charity that has helped thousands of people of all ages and backgrounds from 1950 to the present.
Although the theater buildings were taken in eminent domain and demolished in 1998 by the Community Redevelopment Agency which claimed that the buildings suffered extensive earthquake damage, the Ebony Showcase transformed, adapted, and did not close. Instead, we continue to provide entertainment, resources, and charitable services on the internet and in the community.
---
Buy From Our Online Stores
100% of Our Profits Support Our Charity.
Buy Amos n' Andy DVD's


Click to Buy Amos 'n Andy DVDs

Buy Classic TV Shows & Movies


Click to Buy Classic Movies
and Vintage TV Shows on DVD

Buy Silent Movies


Click to Buy Vintage Silent Films
---
These Webpages Are Being Developed...
---
Coming Soon
| | | | |
| --- | --- | --- | --- |
| http://www.businessincubation.info will provide resources to enhance your business | We received a contribution of over 100 reel-to-reel audio tapes of Old Time Radio Shows. We will digitize the shows and make them available on CD and at http://www.internetbroadcastingworld.com, our internet radio station. | We're going to offer screenings of movies at our Community Resource House. | Coming Soon!! Online classes and workshops. |
---
The Archive of American Television, a Division of the non-profit Academy of Television Arts and Sciences Foundation, interviewed 800 television pioneers and has posted over 200 videotaped interviews online. It is their ultimate goal to be the world's largest and most advanced oral history collection on the history of television. The archive's subjects include all professions within the television industry. Examples include: actors Alan Alda, Ossie Davis, Michael J. Fox, James Garner, Mary Tyler Moore,[2] William Shatner, and Dick Van Dyke; producers Norman Lear, Carl Reiner, Chris Carter, Steven Bochco, Phil Rosenthal, Sherwood Schwartz, Fred Rogers and Dick Wolf; newscasters Walter Cronkite, Ed Bradley, Bob Schieffer and David Brinkley; executives Fred Silverman, Sumner Redstone, Leslie Moonves, Robert Johnson, Kay Koplovitz, Frank Stanton and Ted Turner; costume designers Bob Mackie and Nolan Miller; choreographers Tony Charmoli and Cyd Charisse; writers Roy Huggins, Tad Mosel, Sidney Sheldon, Abby Mann and Ann Marcus. The selection process is chaired by a committee of television executives and industry professionals. Only 25 interviewees are selected per year. There are now a total of 802 interviews in the Archive of American Television.

Nick Stewart was the 19th person that the Archive of American Television selected.
---
History, Videos, Information About
Nick & Edna and the Ebony Showcase
Click here for history

ARCHIVE OF AMERICAN TELEVISION
(Click the image below to see the video.)
Karen L. Herman, Director of Production and Research, for the Archive of American Television wrote a letter to Valarie Stewart, daughter of Nick and Edna Stewart, that said, "We are glad that we were able to help preserve your father's legacy.

Nick Stewart - Archive of American Television
Interview

Watch clips and movies from Nick Stewart's Filmography.